Floor sockets and floor boxes: For perfect power and data connections
The family of UDHOME complete units can position power, data and multimedia connections exactly where they are required. Floor sockets and floor boxes of the UDHOME family are mounted directly on the raw floor or the screed and connected with flexible installation pipes ‒ it couldn't be simpler. Thanks to their elegant, discreet design, the UDHOME floor sockets and floor boxes integrate themselves seamlessly into the interior architecture. When the hinged lid is closed, only the high-quality surfaces of solid brass or pure stainless steel are visible. Thanks to their stable construction, the floor sockets and floor tanks are also resistant to the everyday loads in homes, offices and administrative areas.
The and UDHOME9 floor boxes are the perfect solution for dry-care floor coverings and also stand out through a large range of equipment. The floor boxes offer a lot of space for the installation of power, data and multimedia connections. The with their dimensions of 140 x 140 mm, combine both elegant appearance and functionality.
Floor box sockets stand out through maximum flexibility
For maximum flexibility, the floor sockets and floor boxes can, depending on requirements, be equipped with power, data and multimedia technology, for example with the comprehensive Modul 45 range from OBO. However, you can also use standard devices from other manufacturers.
Both the sockets and data and multimedia devices of the Modul 45 series are simply snapped in, without tools, making work quicker and cheaper.
The system can be used for a wide range of applications, thanks to the standardised installation dimensions of 45 x 45 mm and the large range of variants.
These include HDMI, USB or also audio connections. Thanks to their compact design, UDHOME floor sockets and floor boxes require considerably less space in the floor than other floor box sockets for electrical installations.
The infeed of cables is considerably less complicated:
They are simply run in standard empty tubes in the screed up to the UDHOME.
With the easily accessible height-adjustment supports, it is possible to adjust the covers of the floor sockets and floor boxes to the top edge of the floor coverings without any difficulty.
The optional height extension means that mounting is easy, even with higher floor structures.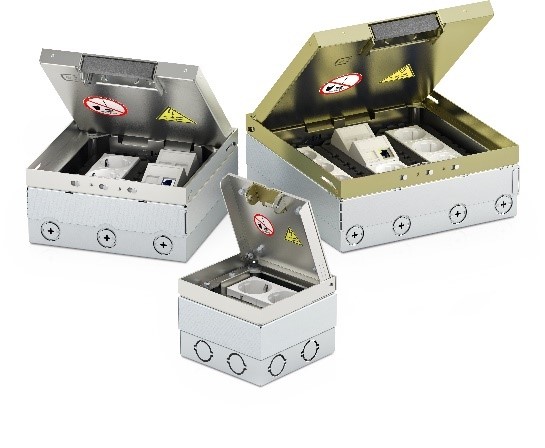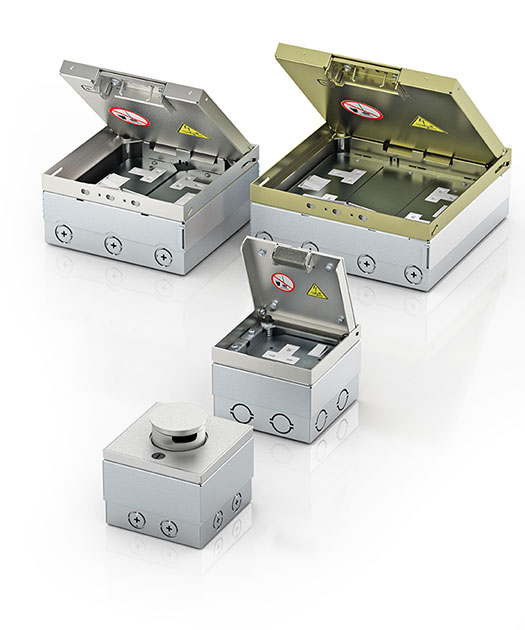 UDHOME4: The stainless steel floor box for more variety
UDHOME4 floor boxes offer maximum flexibility and can be equipped with sockets, data connection modules or multimedia connections.
Two equipment variants are available and can be individually adapted to the appropriate requirements:
The installation of six devices when equipped with two Modul 45 device supports or the installation of up to four devices when equipped with two support ring devices.
The UDHOME4 floor socket also stands out in terms of design. It can fit neatly into high-quality interior architecture. All you can see is a slender metal edge and the cord outlet.
It is available in a brass version or as . With a height-adjustment range of up to 30 mm, the installation unit can be adjusted to the level of the finished floor.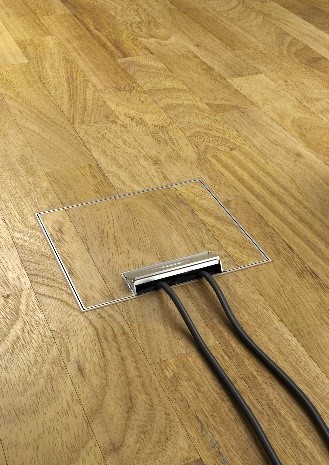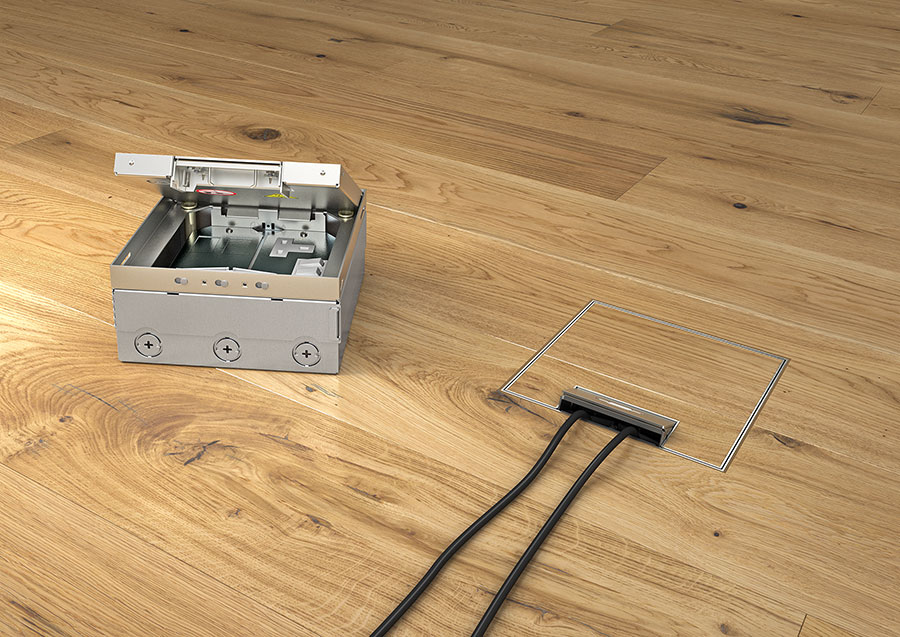 A beautiful form with powerful connections, suitable for installation in screed: The UDHOME9 floor box
The UDHOME9 floor boxes are the biggest members of the UDHOME family.
They combine unobtrusive design with a wide range of use options. Thus, the UDHOME9 floor boxes stand out through their wide variety of equipment options, plenty of space for power supply and for data and multimedia technology.
UDHOME9 floor boxes can be equipped with 9 support ring devices or up to 12 Modul 45 devices.
However, the floor boxes are not only powerful in terms of equipment, they are also beautiful in design: They are available in stainless steel and brass.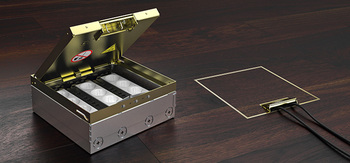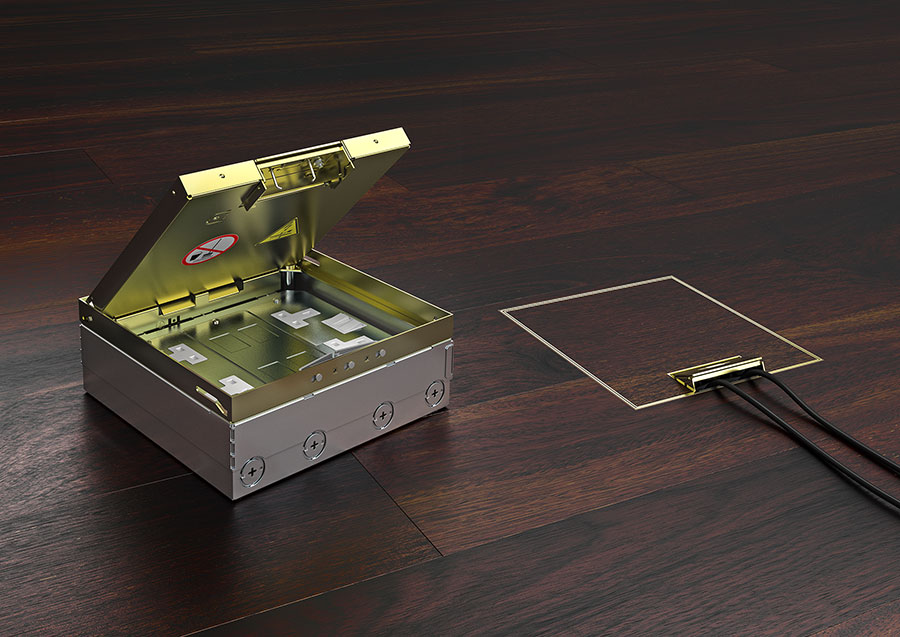 OBO's stainless sockets in the Museo della Pietà in Milan
Major appearance for the floor sockets of the UDHOME family: In the Museo della Pietà in Milan, they, together with the OKB trunking from OBO, set the scene for Michelangelo's final masterpiece and provide a discreet and flexible power supply around the "Pietà Rondanini". The sculpture, showing Jesus and Mary, is the last and incomplete work by Michelangelo. To allow power access near to the sculpture, the compact UDHOME floor sockets were used in the parquet floor. Their stainless steel parts visible in the floor covering blend discreetly into the surroundings of the museum. In combination with the OKB trunking, the OBO products were able to fulfil all the requirements for the planning and design of the historic space. Find out more about the use of the OBO floor sockets in the Milan museum.
Bodentank Steckdosen überzeugen durch maximale Flexibilität
Für maximale Flexibilität können die Bodensteckdosen und Bodentanks je nach Anforderung mit Strom-, Daten- und Multimediatechnik bestückt werden, beispielsweise mit dem umfangreichen Modul 45-Programm von OBO. Aber auch herkömmliche Standardgeräte anderer Hersteller können verwendet werden.
Die Steckdosen sowie die Daten- und Multimediageräte der Modul 45-Serie werden ganz einfach, ohne Werkzeuge, eingerastet und machen das Arbeiten schneller und günstiger. Dank des einheitlichen Einbaumaßes 45 x 45 mm und der hohen Variantenvielfalt ist das System für verschiedenste Anwendungen einsetzbar. Dazu zählen HDMI-, USB- oder auch Audioanschlüsse. UDHOME Bodensteckdosen und Bodentanks benötigen dank ihrer kompakten Bauform wesentlich weniger Platz als andere Bodentank Steckdosen zur Elektroinstallation. Auch die Zuführung der Kabel und Leitungen ist deutlich unkomplizierter: Sie werden ganz einfach im Estrich mit handelsüblichen Leerrohren bis zur UDHOME geführt. Mit den gut zugänglichen Nivellierstützen können die Oberteile der Bodensteckdosen und Bodentanks problemlos auf die Oberkante der Bodenbeläge eingestellt werden. Die optionale Höhenerweiterung sorgt dafür, dass die Montage auch bei höheren Bodenaufbauten problemlos möglich ist.
Mounting video, UDHOME floor sockets and floor boxes
The new UDHOME 2 floor socket
Mounting video, UDHOME2
Additional information