Thank you, Ackermann: Thank you for 65 years of underfloor systems
Some 65 years ago, the first underfloor system was developed, and 15 years ago the Ackermann brand became part of the OBO family. In the spirit of many family generations, and with continuous further development, together we have managed to integrate the Ackermann products into the portfolio of OBO solutions. Being intertwined so closely, it is now time to only use one name and to say thank you. Thank you for the shared path that lies behind us and for starting out with us on an innovative and successful future. Together, we are OBO Bettermann.
"Von allen vier Wänden verlassen (Away from all four walls) – with this motto in mind, Hans Gert Ackermann shaped our underfloor systems."
Ackermann and OBO Bettermann: A small history of underfloor systems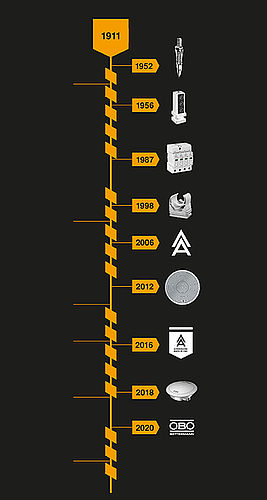 After two of the three Ackermann business units had been sold in 2005, OBO Bettermann took over the Ackermann's Cable Management unit of underfloor and cable routing systems in 2006.
This meant that the existing range in the area of underfloor systems could be expanded.
Since then, the Ackermann products have formed an important component of the comprehensive portfolio of electrical installation solutions from OBO.
To this day, the OBO and Ackermann brands are connected closely.
Numerous new products and further developments in the area of underfloor systems have evolved through this close connection, which can now be found in buildings all around the world.
"The Ackermann brand has history which remains important to us to this day."
– Ingolf Stiens (Head of Product Management Underfloor) –
Our mission continues: Tradition and innovation
Tradition and innovation drive us and provide a sense of responsibility. That is why we, as OBO Bettermann, continue with what began 65 years ago. Offering developments and the highest levels of support will take top priority for us also in the future.
Cooperation with many renowned architects
"Close to real-life situations" – that remains the motto of the underfloor systems creators at OBO and Ackermann. Good connections with planners and architects are still a main focus for us today. This means we can look back on six decades filled with projects with many renowned architects – from Arne Jacobsen to Egon Eiermann and Norman Forster to David Chipperfield. Underfloor solutions from OBO and Ackermann can be found in the Burj Khalifa skyscraper in Dubai, the highest building in the world, in the Neues Museum in Berlin, which was restored under the lead of David Chipperfield Architects, or in the Futurium Museum, the "house of futures", in Berlin.