We are your partner ‒ the partner to the industry
And what makes a good partner?
We understand what you need and can find the most suitable solutions for your requirements. Through the combination of many years of experience, well-founded expert knowledge and honest products, we can simplify your work – guaranteed!
"AND DONE" – that is the key factor when you choose products from OBO Bettermann.
OBO products help you to be "DONE" with your tasks in a quick and uncomplicated manner. In so doing, we know that you require reliable products which are easy to install.
To take just one example from the broad spectrum, the OBO Quick series offers three different types of halogen-free pressure and pipe clips for the time-saving, secure fastening of cables and electrical installation pipes. Our connection and fastening systems are a reliably at your side and guarantee efficient use – good, simple, true. They are your daily companions, upon whom you rely when doing a good job. This is why we are pleased to be able to say that OBO Bettermann, together with all our products, is your partner in the trade – you can rely on OBO Bettermann and our products.
Aquasit cold casting compound is the solution for electrical installations in particularly damp environments.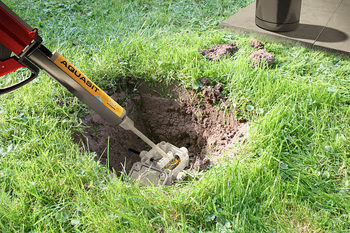 Whether for connections in the garden, by waterways, in laundries or in a pump well – Aquasit ensures a safe electrical installation anywhere. The application is simple: Aquasit is cast simply and tidily using a standard cartridge pistol. The transparent, amber-coloured cold casting compound, based on carbon resins, then sets to a soft elastic. Aquasit is "self-healing" and can also be removed easily.